Customize action figures at 86fashion (OEM)
Customize action figures at 86fashion (OEM)
1. What is action figure
For those who still don't know action figures:
An action figure is a posable character figurine, made of plastic or other materials, and often based upon characters from a film, comic book, video game, or television program. by wiki
Along with the development of toys' history, we've went through the very first G.I. Joe, to many other exquisite collectible toys with extreme high likeness, and flexibility.
The seek of higher and higher likeness between the figure and the character it's based on, is infinite for all the manufactures. It reveals in a product from the aspects of head sculpting, costume tailoring, and all the details like body shapes, symbolic accessories, weapons...

2. How realistic can it be?
Handcrafted head sculpt with tiny details
The head sculpts are sculpted and painted by professional artists, they are same like the character just in a different scale. You can see one single eyebrow hair, sunburned spots, moles. When you look at a good-done head sculpt, you would feel like the character is looking back at you.
Body with over 30 articulations and natural skin look & touch
As the name "action figure" suggests, the figure's body is highly posable, which relies on over 30 articulations all over the body. They are very flexible to bend and pose into any look you want.
"Posing" is one of the greatest fun playing with action figures. You can give them new gestures, poses, outlooks every different day. And even new stories.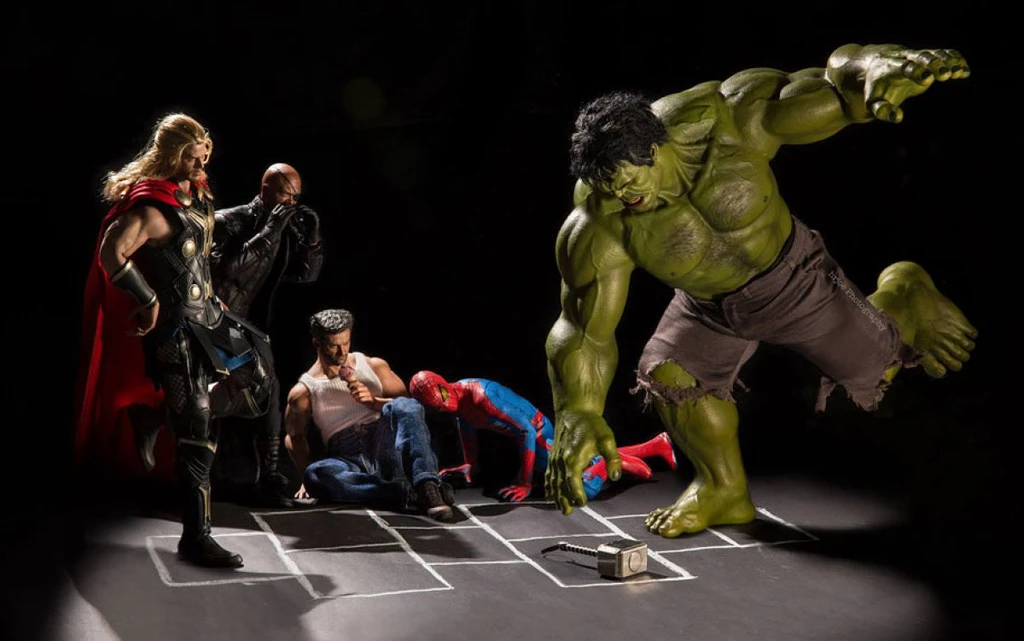 Besides the high flexibility, the skins and muscles can also look and feel like real human skin. Though in this case it would cost higher then regular bodies, but if the character exposes a lot of skin area, then a seamless body is your best option.
Costume and accessories
Costume is one of the most important part of a figure because it fulfills a character and tells his story itself. Fibers, plastic, metals are widely used to give the closest look it should have.
3. Who can you customize into action figure?
Action figure customization could be applied to a lot of situations.

Yourself - If you have a certain group of fans who adore you, you can customize a vivid action figure of yourself, and sell it to them, which is a very creative way to enhance your influence and channel it into real profits. If you are a celebrity on the internet, this is something you should try.
e.g. Lisa, a celebrity on Instagram, she has hundreds of followers. Her income source are mostly doing modeling, photo-shooting, and of course doing advertisement for some other company. But one day she thought maybe she can sell some products to people who like her directly, like her own figure. So she gathered some pre-order down payments from the fans who would like to order it and started the project. And when the product was released, she made a huge profit from it. From the beginning to the end, Lisa shares no risks. And, gained a closer bond with her fans.
OEM plan for your artwork and products- For artists and brand owners, if you want to mass produce your product, you can handle the rest of the procedure to us, and focus on designing and marketing.
e.g. Bruno, a solo designer, has a big popularity on the Internet, especially among the designers all over the world. He is able to design and make the figure by himself using 3D printing technology. With us, he could bring his single artwork to mass producing and officially release them to the market. After he releases the first product, he gained wider attention and soon launched more projects, make his little hobby into a great business.
Your idol - You can also customize someone you love into action figures, so that you can keep him/her with you every single day! If you are a huge fan of a superstar, this is definitely worth-doing. You can call together some other fellow friends to do this together, or contact the administrator of his/her fans' club to promote this campaign to get a wide attention. Make sure you would have access to ask for authorization from the person himself/herself to avoid any legal risks.
e.g. Nancy, a 100% determined fan of Mr. S, who is now over 60 years old and has dedicated most of his life to art, had always been wondering what would be the best way to salute him, and remember all of him best moments since the beginning of his career. So she gathered a lot of fans and decided to crowd-fund an customized action figure of Mr.S in his best movie. Mr. S agreed. And they made it. Besides visual material in the old photos and movies, they now have a statue of him in their home, tribute to Mr.S.
Business image - More and more entrepreneurs are showing faces to the public these days, a solid personal brand of the CEO would be like free advertising to the business. In the form of action figures, a company could be able to stay in closer relationship with the clients, and let the them actually feel the spirit of the enterprise.
e.g. Company X customized an action figure at the anniversary of the company, sells as limited collectibles to the loyal customers.
For religious believers to worship their own god - the action figure is made one stronger and time-lasting materials, thus is better then traditional statues made of clay or stone. It also has vivid details and highly posable. The church could crowd-fund the customizing project, and donate some of the extra fund to charity after being backed from other believers.
4. How does things work?
Below is a full procedure of the cooperation.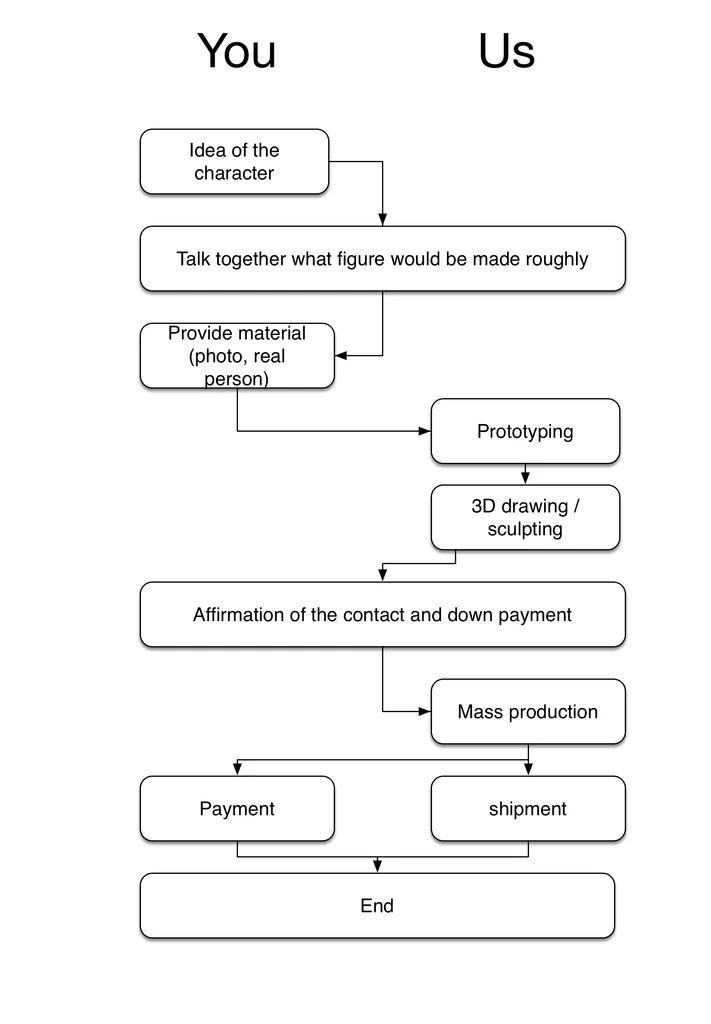 5. Cost
The cost depends on the complexity of the product, and the total quantity of the order you are going to place, and how deep we have to involve in the designing part.
We products various kinds of action figures, e.g.,
anime version, like Funko's style, simple and abstract, with lower cost.
real life version, like Hot Toys's style, detailed and vivid, multiple kinds of materials used, with standard cost.
Relatively, if the quantity of your order is higher, the cost for each product drops accordingly. So if possible, gather as many friends and fellow enthusiasts like you as possible, or make pre-orders from your customers.
6. About us
We are the biggest manufacture in action figures in China, has mature producing lines associating with toys and models. With 45 years of product experience in Design, R&D, Manufacturing and Supply Chain Managementacross USA, Europe and Asia, 86fashion dedicates to creating unique and meaningful products for your specific targeted audience, regardless of your background and industry sector.