A Meow History on The Animated Cats We Know And Love
Cats have been a beloved animal throughout history, and they are so popular in the Western world today that it is hard to find someone who doesn't like them. They've been used in cartoons for decades, with the first animated cat appearing in 1894. However, their use goes back much further than that.
Cats have been depicted in ancient Egypt, with sculptures showing a cat standing upright on its hind legs. In the Middle Ages, they were seen as witches' pals, and it was believed that people who liked to play with cats may be witches themselves. There is also evidence of them being used for political purposes such as cartoons during World War II or propaganda posters from Soviet Russia to encourage children to do their daily chores without complaints about how hard work can sometimes seem like drudgery - these are still true today!
Nowadays, animated cats are commonly seen in movies, TV shows, and commercials. From famous comic book cats like Garfield to interactive cartoon characters like Hello Kitty, many cats are depicted through animation. Here are some of the top animated cats throughout history you should know about!
1. Garfield
Garfield is a fictional cat and the star of the popular comic strip named "Garfield." The comic strip focuses on Garfield, an orange tabby cat known to be fat, lazy, loves to eat lasagna, drinks coffee, and hates dieting. He is usually seen eating, sleeping, or trying to avoid work. He often appears with two other characters, John Arbuckle, his human owner, and Odie, the dog.
Garfield is always getting into some type of trouble in his comics and is always getting out of it.
Garfield, the comic strip, was first published in 1978 and has been a hit with people ever since. A few years after Garfield was initially published, it became a TV show. The series ran for nine seasons and is still being aired to this day on various channels around the world. The Garfield comics are still being published today by Jim Davis, who found inspiration for some of his characters from real-life cats that he would see around him while growing up in Indiana. In all, Garfield has been featured in more than 20 countries and translated into 25 different languages!
2. Felix The Cat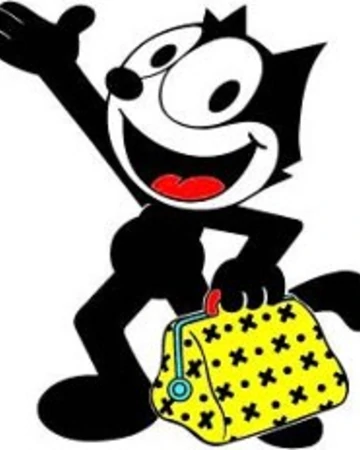 Created by Otto Messmer and Pat Sullivan in 1919, this funny animated cartoon character was created during the silent film era. Felix is a black cat with a black body, white eyes, and a huge grin. Felix The Cat has been featured in more than 220 animated shorts and live-action movies and is one of the most recognized cartoon cat characters in history today!
The character is based on an earlier series of cartoons by the same creator, which was drawn in a style that Messmer called 'the old Dutch cats.' He would take these black cat drawings from his sketchbook and animate them with stop motion techniques. However, it wasn't until the mid-1920s when Felix became one of animation history's first true stars thanks to sound effects like meows and purrs created by Sullivan using their mouth as a rasp.
3. Hello Kitty
Hello Kitty, otherwise known as Kitty White, is a character that Yuko Shimizu created at the Sanrio company. Hello Kitty is depicted as a young female cat with a pink bow. Her mouth is usually shaped in a smile, but she can wear other facial expressions, including pouts and blushes. Her favorite things are flowers, cake, cookies, and all sweet treats. The character lives outside of London and attends the 3rd grade.
She first appeared on April 27, 1974, at Kitty's Birthday event, an annual celebration of cats that Sanrio holds each year to commemorate its founding date. One day prior to her debut at this event, Hello Kitty was presented as a logo for all products aimed at young girls.
Hello Kitty has been considered one of the most famous animated cat characters ever created since it continues to capture many people's attention today across various generations around the world! You can find Hello Kitty in books, games, toys, accessories, clothing, music albums, and anime series.
4. Tom Cat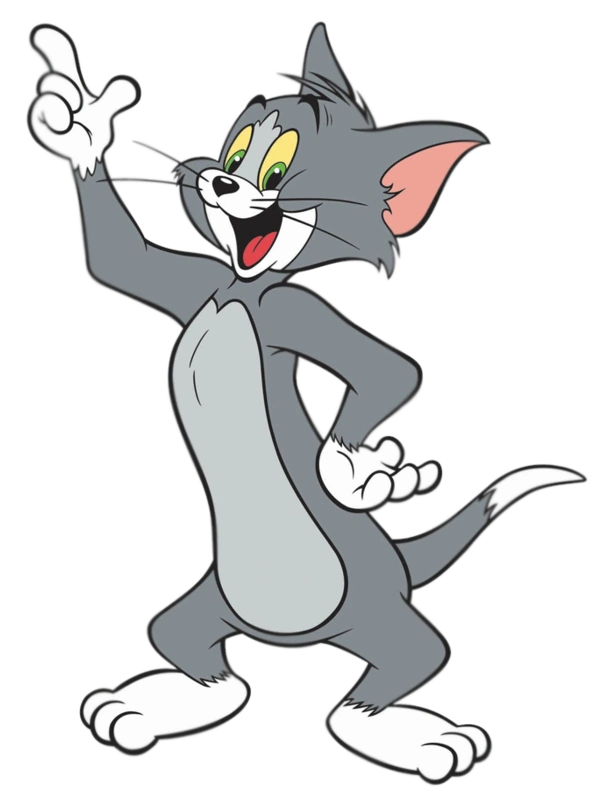 William Hanna and Joseph Barbera created Tom in 1940 to compete with Walt Disney's Mickey Mouse, but with a more "slapstick" approach to Tom's character than any other theatrical animated series.
Tom Cat, also known as Thomas "Tom" Cat, is a fictional character and one of the two main characters of the popular show, Tom and Jerry. Tom is a domestic short-haired cat who has a blue and gray color. He is usually depicted as an antagonist of Jerry, who is a mouse. In the show, he's continually after him but always ends up with bad luck for himself. Yet, he still manages to seem likable enough that it doesn't really matter if they are friends or not because we know all cats don't get along well with mice.
5. Sylvester The Cat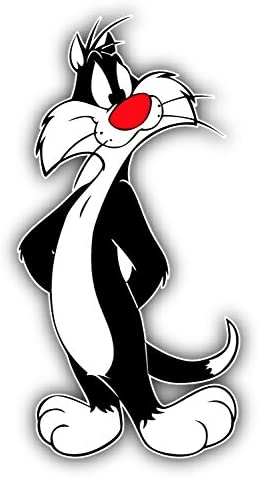 Sylvestor is a tuxedo cat known for its black and white features. He's most recognized by his lisp and is usually shown speaking with his tongue out. He will often spray people when he is talking and loves to go on long rants. He is most known for his role in the Looney Tunes cartoons and chatting Speedy Gonzales, Hippety Hopper, or Tweety.
He has had some of the best catchphrases of all animated cats because while trying to eat Tweety Bird, it usually backfires on him like "I'll get you next time, birdie," "Gee, I'm hungry," or "I'm just one bad kitty, huh?"
He was voiced by Mel Blanc and made his debut on November 18, 1950, with A Tale of Two Kitties. He has been seen in a total of 47 cartoons during his career from 1951-1966 before being retired after completing The Jet Cage. Lastly, he appeared for a cameo in an episode of Animaniacs, where Yakko's father tells him how Sylvester always gets into trouble.
6. HealthCliff
Heathcliff is another big orange cat who is well known in the cartoon world. He was created by George Gately and had his first appearance in 1984.
Heathcliff is a cat that has been very popular with the public due to his tough exterior but lovable personality on the inside. He's also helped us realize that cats are not just lazy animals who do nothing all day. In fact, they're more active than most people think!
Heathcliff lives in both comic books as well as animated TV shows (like Heathcliff and Dingbat). Sometimes he'll be written into stories about him going through adventures or solving mysteries to help someone else out. Other times you might see him go up against villainous enemies like Dratini-Breath from The Dragon of Doom.
7. Tigger
Tigger is a well-known cat on Winnie the Pooh, recognized for his orange, black and white colors, resembling a tiger. He was initially introduced in the book "The House at Pooh Corner" in 1928 by A. A. Milne and has been a solid character in cartoons, books, and television since his creation.
Tigger has a very goofy personality and loves to bounce around. He's not the brightest cat, but he makes up for it with his heart! He also starred in his own movie called The Tigger Movie, which is actually based on A House at Pooh Corner by Milne.
Tigger enjoys playing games such as "Poohsticks" or making honeypots out of beehives. His favorite food is blueberries since they're so tasty & juicy! He lives in both shorts (like Rooftop Cat) and TV episodes (such as Double Trouble). You might even see him do something heroic, like stop a train from crashing into Rabbit's house before it could hit any other buildings.
Animators have been creating lovable cats for years. No one can deny that these animals have become an essential part of our lives and culture today. Cats are cute, cuddly creatures that are great to have around our homes and share with others. Cats can make anyone's day better by making you laugh, snuggling up to you, or just by being their goofy self!
In the end, it doesn't matter what kind of cat you like best because they all bring joy in some way, whether it be through their cuteness or bravery. So whether you choose to purchase a custom plush cat of your favorite character at 86fashion or enjoy them through television and movies, there are tons of sweet cat characters to check out!